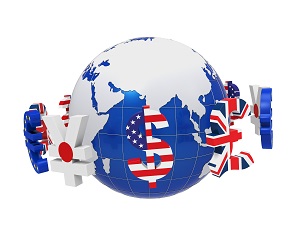 Are you importing products? Does your company rely heavily on foreign currency transactions? With the fluctuations the dollar is currently experiencing your profit margins may be at risk.
If you are buying your stock a rising rate can offer you a number of advantages, your cost of sales decrease and your margins widen. However, what happens when the dollar weakens and the number of AUD you need to buy a USD increases? Are you managing this accurately?
For some businesses this practice is a mix of art and science, they guesstimate their margins and for less complex businesses this is fine, but if you have a larger product base and higher turnover this is a serious risk and can lead to significant liquidity issues.
Our customers using MYOB EXO software have a wide range of features to help them keep track of their foreign currency obligations and pricing, all stock transactions factor in an average costing which captures the cost the stock was receipted in at, so you have the absolute best data when it comes to costing.
How about the pricing of your goods? MYOB EXO offers a range of features to protect your margins. You can also have a warning if you were to try and sell a product below a certain margin, or perhaps a warning to update the sell price of a stock item when the cost price increases by a certain percentage.
Our implementations of MYOB EXO can offer any number of these features, and with this sort of functionality you can see why our customers love the software, as they can spend more time with their customers and less time calculating margins every time the AUD crashes.
Lets talk more about how we can help solve your foreign currency situation.
Give Acacia Consulting Services a call on +61 3 8560 5220 or Contact Us.