MYOB Advanced 2019.1 Release Notes
The release of MYOB Advanced 2019.1 is a major release that includes updates and enhancements to all areas of the MYOB Advanced system.
Significant new features are highlighted below here in our MYOB Advanced 2019.1 Release Notes summary.
At Acacia Consulting Services, we are committed to helping you through the upgrade process.
What you need to know
The MYOB Advanced 2019.1 release is a major upgrade and as part of a major upgrade, numerous changes will be made to the product.  

Some of these changes may not be visible to users whilst others could directly impact the way they carry out their day-to-day operations within the system.
These changes are made to enhance the functionality and extend the scope of the solution to benefit our clients.
However, every company uses MYOB Advanced in a different way which means that some changes may not suit each user or company and may require changes to business processes….which is why we have created this MYOB Advanced 2019.1 Release Notes article !
Customisations
The ability to customise and tailor the solution to the specific needs of a client is a key competitive difference to Acacia Consulting Services in combination with MYOB Advanced.
However, with this level of customization comes maintenance required with major upgrades.  Customisations need to be tested against the new release to ensure that any changes contained within this release do not impact the way the customization operates.
If the customization does not operate as expected, it may be that a new version is required in time for the major upgrade.  As part of the MYOB Advanced 2019.1 upgrade, new versions of customisation may need to be applied to a site.
Some Highlights of the New Features
Click the image below to watch a brief video (opens in a new tab) that showcases some of the new features.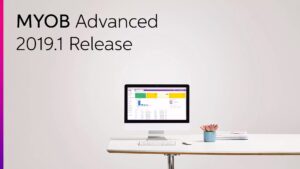 Compliance Tools for General Data Protection Regulation
Because MYOB Advanced holds the personal data of individuals, it should be able to comply with the requirements of the General Data Protection Regulation (GDPR).  This release provides GDPR compliance tools that simplify the handling of personal data and give users the ability to protect personal data and restrict its processing, if needed.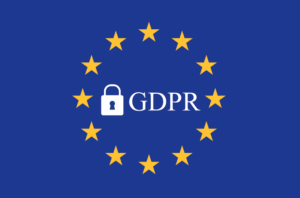 With GDPR compliance tools, users can:
Track in the system whether the consent of individuals for the processing of personal data has been obtained or recalled,
Restrict the processing of personal data for particular individuals,
Erase and restore personal data,
Audit who restricted the processing of personal data or erased personal data in the system, when the event occurred, and what data was restricted.
Reverse of Funds Transfers
Users can now reverse incorrect funds transfers in the system that have been released.
To reverse a funds transfer, a user opens the necessary funds transfer on the Funds Transfers screen (CA301000) and clicks the new Reverse button on the main toolbar.
Reconciliation Inquiries
The users of MYOB Advanced can occasionally come across inconsistencies in transactions, such as when a user has posted a GL entry directly to an AR account or used an AR account in the details of an AR invoice.

These inconsistencies can result in different balances in AR, AP, and GL reports.  To address this issue and make it easier to find documents that produce discrepancies in balances, a set of inquiries has been developed in this MYOB Advanced 2019.1 release.
Support for Different Financial Calendars
In the previous versions, companies within the same tenant could not have different fiscal year-end (FYE) dates.  Now it is possible to implement multiple legal entities that have different fiscal year-end dates within the same tenant.
With this functionality, an organization can accelerate implementation; simplify maintenance for companies that share vendors, stock items, and employees; run consolidated operational reports at any time; and facilitate the preparation of consolidated financial statements.
Project Updates
Projects in MYOB Advanced 2019.1 support multi-currency features, so you can track a project in one currency, bill the customer in another, and bring in transactions using any currency.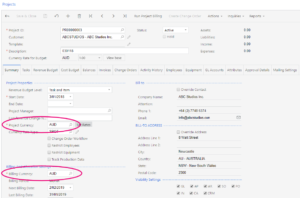 You can now generate a Project Quote in advance of creating a project.  This lets you take advantage of all MYOB 2019.1 Advanced's quoting functionality in your project accounting.
This release adds the ability to enter and modify budget forecasts for a project and compare these forecasts with the project's actual costs and income.  Forecasts can be broken down by period and can include multiple revisions.
Location Tracking of Users
In this release, the ability to track the GPS location of a user by using the mobile app has been added.
Pop-Up Notes
This release introduces ability to communicate important information about an entity to other MYOB Advanced 2019.1 users.  A user can now leave a note about a customer, a vendor, or an inventory item that will be displayed to other users when they select the entity while creating documents in the system
Generic Inquiry Enhancements
Generic inquiries now support conditional formatting, and can display extra information in a sidebar, giving you more information "at a glance".
Goods Receipt Updates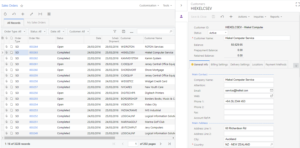 Significant updates have been made to goods receipt and returns functions including a new layout to help simplify the processing of purchases:
User can now add a line of a purchase receipt to a purchase return.
a Return button is now available on the main toolbar of the Purchase Receipts screen, if a purchase receipt of the Receipt type is opened on this screen.
A Return by Original Receipt Cost check box has been added to the Purchase Orders Preferences screen (PO101000).
Previously, for stock items and non-stock items required receipt, the user could not process the Accounts Payable bill before the purchase receipt was released.  To give users this ability, a new Allow AP Bill Before Receipt check box has been added on the General Info tab of the Vendor Locations screen (AP303010) and on the Purchase Settings tab of the Vendors screen (AP303000) (for the vendor's default location).
To enhance the processing of landed costs and remove extraneous information from purchase receipts, the new landed cost document has been introduced in this release.
Automated Warehouse Operations
Clients with medium or large warehouses typically use external WMS (warehouse management system) solutions for supporting standard warehouse operations with inventory items by using barcode scanners (or mobile devices with a scanning option).  These warehouse operations include picking, packaging, receiving, putting away, transferring, and counting items.  In this release, a completely new functionality for supporting automated warehouse operations has been added to the web and mobile versions of MYOB Advanced.
Using a handheld scanner or the MYOB Advanced OnTheGo smartphone app, warehouse employees can complete their tasks quickly and easily, using special screens that automatically change modes as they work through the process.
For full information on all the changes, see the MYOB Advanced 2019.1 Release Notes documents: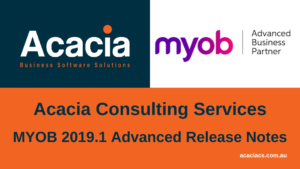 MYOB Advanced 2019.1 Release Notes (PDF)
MYOB Advanced 2019.1 Technical Release Notes (PDF)
Acacia Consulting Services – helping you upgrade your accounting software to the next level.

If you have any questions about this new release, these MYOB Advanced 2019.1 Release Notes, or about business accounting software solutions for growing businesses, please Contact Us.