Sell a Fixed Asset in EXO and it will also correctly recognise the profit or loss on the sale and accumulated depreciation to date in the general ledger.
How?
First, generate the sale of your asset through the EXO Business Fixed Assets module.
Enter the date and amount of sale in the Asset Register: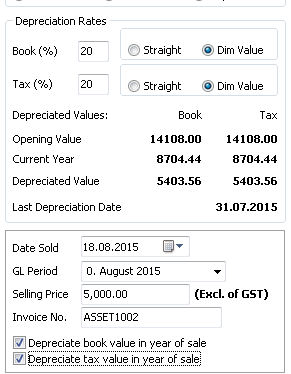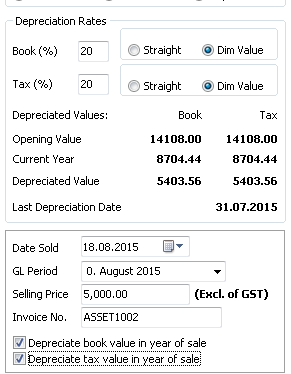 When prompted create the debtor invoice for the sale (which creates the debtor invoice in EXO Business).
EXO will process the disposal of the asset in the Asset Register, create the debtor invoice for the sale, recognise the depreciation value for the asset up to the date of sale, recognise the profit or loss on sale and clear the accumulated depreciation to date as needed.
---
Manage your Asset Register & Depreciation Calculations
EXO's Fixed Assets module is a great way to manage your Asset Register and depreciation calculations. It will assist with Month End and Year End reporting as depreciation calculations and asset disposals are quick and easy. Available reports will provide supporting documentation for your Fixed Assets value in your Balance Sheet to your accountant or auditor.
The Fixed Assets module is integrated with EXO Business; purchases for assets are entered into EXO Business as part of the normal creditor invoice / bank reconciliation processes. When the user next logs in to the Fixed Assets module they are prompted with the new asset purchase to remind them to set up the depreciation calculation.

The User is also prompted to record additional information about the asset such as custodian, branch, location and even service information.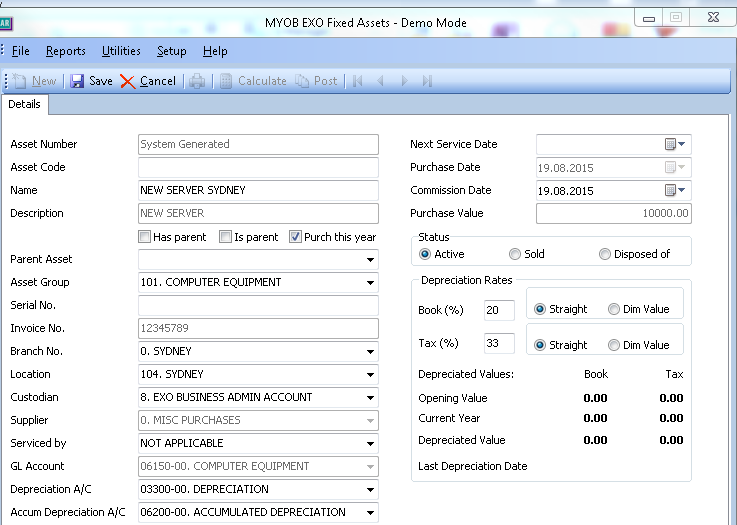 In addition to calculating and posting depreciation to the general ledger EXO Fixed Assets tracks and creates the necessary general ledger entries for asset revaluations and disposals (either by way of a straight disposal or sale).
EXO Fixed Assets supports up to 24 extra fields of information per asset for either information display or reporting; and reports can be modified or custom built using EXO's Clarity Report Designer program.