To create additional classes or edit existing ones go to the Setup Marketing Class toolbar button. You will need to be on the Debtor screen and select Setup, Setup Marketing.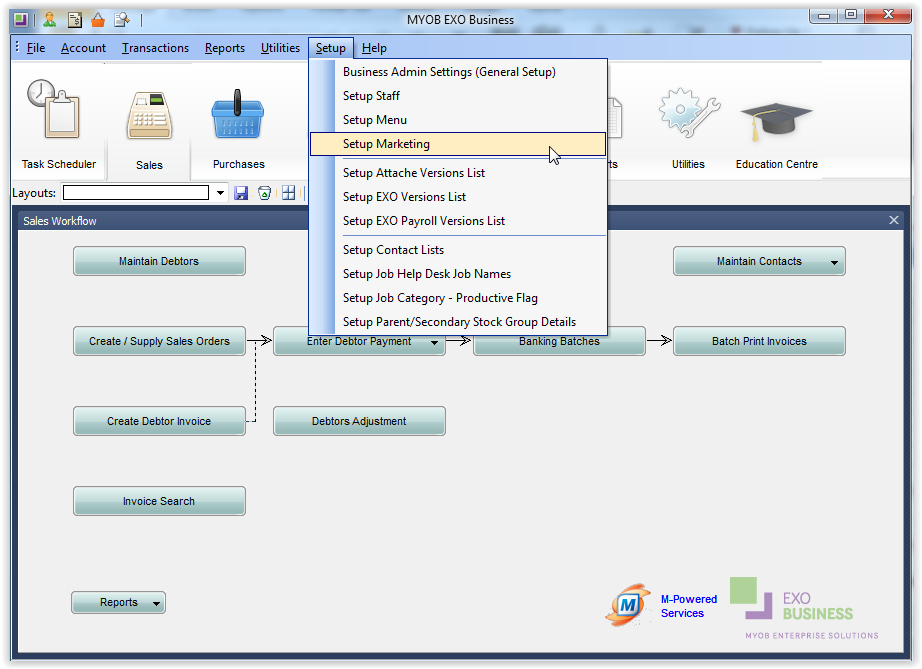 Clicking the New button will create a marketing class for the next one in the sequence. If there are a few blank classes after last defined class it is recommended editing these as preference. To edit and existing or blank class, double click on the entry in the list or highlight and click the Edit button on the toolbar.
Setting up a Contact on a Marketing Class
On the Marketing tab, you can assign the Contact to your marketing classes or categories, so your marketing campaigns are more targeted to relevant contacts.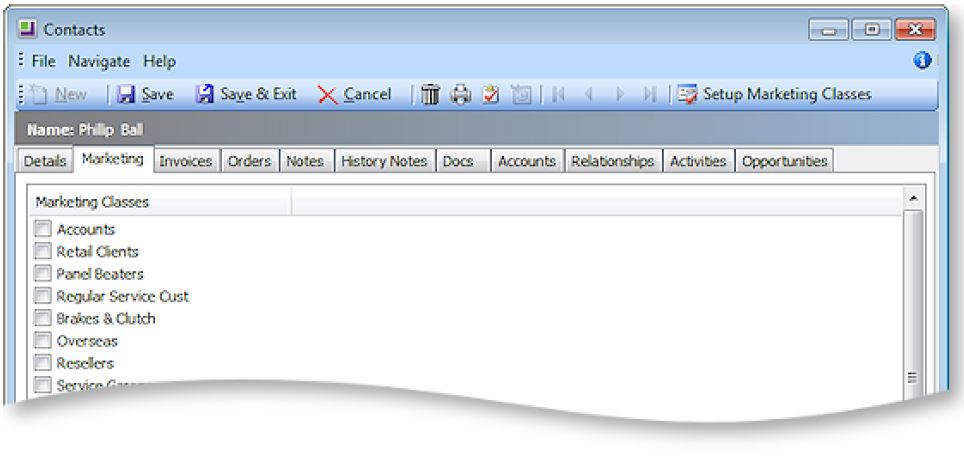 Check the checkboxes for the marketing classes that you need to associate to this contact.
Emailing Contacts using Marketing Classes
Go to Account > Contacts
You can send emails to individual Contacts, groups of Contacts, or all Contacts, from the Contacts window.
To email Contacts:
1. Go to the Account menu and choose Contacts. The Contacts window is displayed.
2. Select the Contacts you want to email in one of the following ways:
– Highlight a single Contact
– Holding the Control key down, click on a selection of Contacts
– Select a marketing class by selecting the drop down tool box under Marketing Profile, click Search. To select marketing's classes use the keystroke Ctrl + A.

3. Click the Send Email to List toolbar button email button
4. If you don't have email addresses recorded for all of the selected Contacts, a warning is displayed, and you are prompted to confirm if you want to email the remaining Contacts that do have email addresses. Click Yes.
5. A dialog is displayed asking if you want to hide the CC list in the email. If you don't want each Contact to see the other Contact email addresses being emailed, click Yes to hide the email address list.