The food and beverage sector is one of Australia's most significant economic contributors. In terms of employment, it accounts for 28% of all manufacturing turnover, making it the largest single manufacturing sector. Overall, food production has been steadily increasing in recent years, and Australian food manufacturing is thriving.
The food processing industry is multiplying
Australia's food processing sector has experienced impressive growth in the last decade. Industry players come in many sizes, from multinational companies that manufacture large-volume, fast-moving consumer goods to smaller companies that produce a limited range of niche products.  
Australia's innovative role in the food industry ensures its preeminence as a world leader in the field.
The food industry is highly dynamic and driven by consumers seeking diversity, quality, and value. Australia's cultural diversity is reflected in the vast variety of food available.
By developing new technologies and innovations in food processing, separation, and packaging, Australia is continuing to lead the way in the global food industry.  
Australia's strengths in agricultural research, development and supply of high-quality raw materials are complemented by a robust food safety regime, an environment that encourages creativity and innovation, and collaboration between industry players.
Government support 
Moreover, the Australian Government announced that it would invest $1.5 billion to assist Australian manufacturers in becoming more competitive and building scale in the global market. The six key areas identified for support were energy, metals and minerals, food and beverage, life sciences, information technology and telecommunications, and advanced manufacturing.  
Additionally, The Food and Beverage Manufacturing National Priority Road Map, a foundation document for guiding the industry's growth, will inform Government and industry's decisions to support projects that will:
We will harness the sector's strengths and advantages.  
The private sector can provide an innovative solution to overcome barriers that limit value creation, thus allowing the industry to achieve its full potential. 
Grow the food and beverage manufacturing sector by developing a high-value, reputable, and dynamic industry. 

 
Local food manufacturing promotes the growth of agricultural communities
High-value food and beverage manufacturing projects can boost returns for farmers and agriculture producers. Australia's high-quality agricultural products and production capabilities support the food sector's economic contribution and employment.  
The sector has demonstrated resilience throughout the COVID-19 pandemic by adapting quickly to new challenges and evolving as needed.  
The Australian agriculture, fisheries, and forestry sector is targeting $100 billion in farm gate output by 2030 through the Ag2030 program. The production boost will positively affect the country's burgeoning food processing industry.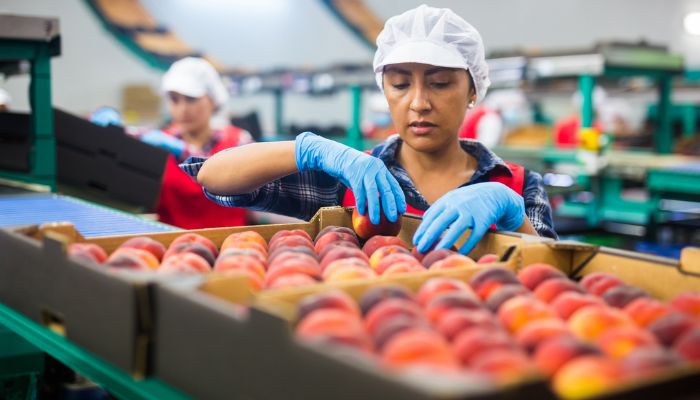 Australian food manufacturers are significant contributors to the economy
 When you partner with a food supplier that manufactures all of its products at its own owned facilities in Australia, you gain the benefits from working with a manufacturer close to home.  
Currently, Australia's largest growing industry is food and beverage manufacturing, employing more than 300,000 Australians. Industry revenue is up to $131 billion annually.  
The food manufacturing sector in Australia produces food for domestic and international brands. Australian-made food products are exported to countries including Korea, China, New Zealand, Japan, the United States and more.  
The Australian food industry implements methods and techniques to assure the delivery of safe, sustainable, and healthy foods and beverages to consumers within and outside the country.  
The food and beverage industry is thriving, having a positive economic impact on Australia by providing good employment opportunities. The latest developments in this sector are constantly being made to provide consumers with good nutritional value while also maintaining its status as the most influential industry in Australia.  
Food processing has been a standout performer in an otherwise declining manufacturing sector. In 2014/15, according to Australian Bureau of Statistics data, food product manufacturing contributed over $25 billion and beverage product manufacturing an additional $10 million in value-added. Over the last ten years, real annual growth averaged 1 per cent for food product manufacturing and 8.5 per cent per annum for beverage product manufacturing. 
Helping food manufacturing thrive
Acacia provides financial solutions to help Australian food manufacturing to continue thriving. Acacia can help you grow your food production business by managing your cash flow, growing your business, and leveraging global and local opportunities. We have more than 30 years of experience helping food producers overcome issues, rebound and become more profitable. We help optimise, automate and improve the traceability of your business. Acacia has the knowledge and experience across a range of businesses to provide the most cost-effective solution for your business. If you are interested in finding out how Acacia can help your business, please contact us to find out more.