MYOB Advanced 2020.4 Release Notes
MYOB Advanced 2020.4 Release is coming soon !  This upgrade adds some new functionality and enhances some existing tools that many users are sure to welcome.
This release adds enhancements to the Payroll module and support for TPAR reporting in MYOB Advanced.
Batch payments in the Payroll module can now be released and exported in separate operations, and payment details can now be edited before releasing.  This makes it easier to correct payment information without having to cancel and recreate the associated pay run.
This release also includes updates to WorkCover setup and reporting in the Payroll module.
New Features In the MYOB Advanced 2020.4 Release
Taxable Payments Annual Reporting (TPAR)
Tracking payments for TPAR reporting can be turned on or off at several levels in the MYOB Advanced System.
This release adds two inquiries and two reports, which let you view detailed and summary information about TPAR payments and produce the TPAR report for sending to the ATO.
Updates to Payroll Batch Payments
The Batch Payments screen now displays a generic inquiry listing of batches, making it consistent with many other record screens in the MYOB Advanced system.
This release separates the release and export functions for batch payments.
Updates to WorkCover
This release updates the reporting functions for WorkCover in Australia (and ACC in New Zealand).  The screens used to assign WorkCover rates have been updated.  New WorkCover and ACC reports are available.
New generic inquiries are available to provide a better view of the available data.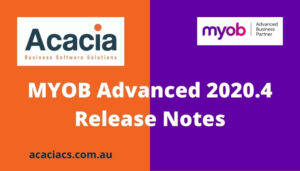 Several known issues have been resolved with this MYOB Advanced 2020.4 Release as well.
This MYOB Advanced Release is automatically deployed to all production accounts.
As your Business Partner, Acacia Consulting Services will contact you to let you know when the upgrade will be made to your MYOB Advanced system.
We will help you prepare and be available to you for any help or questions that you might have as a result of this upgrade.
Click here to download a copy of the MYOB Advanced 2020.4 Release Notes
Or, if you are looking for an experienced MYOB Business Partner to help you implement MYOB Advanced into your business and would like to discuss your needs, then please let us know.
If you have any questions, please either:
or
phone us on +61 3 8560 5220