MYOB Exo 2020.1 Release Notes
The MYOB Exo 2020.1 Release Notes have now been made available to us at Acacia Consulting Services.
We know that for many of our Clients, MYOB Exo is a crucial business tool, and having the most up to date version of MYOB Exo has become a necessity.
What's New in This MYOB Exo 2020.1 Release?
In this release, MYOB have updated the user interface in the core Exo Business applications to give them a more modern look.
MYOB have done this to improve the software's usability and to align the look and feel of MYOB Exo Business with MYOB's other desktop products.
Updated User Interface
In this release, the changes to the user interface only apply to these applications in the MYOB Exo Business Core:
• Debtors, Creditors, and Non Accounts
• Stock
• Contacts
• Sales Orders, Invoices, and Payment Entry
• Purchase Orders, Inwards Goods, and Creditor Invoicing
• Bill of Materials
• General Ledger
Toolbar and Menu Icons
The icons on the toolbars and in menu lists are flatter and larger.
These new toolbar icons are also clearer than the icons previously used with MYOB Exo Business and are scalable.
The user interface is more monochromatic.  Using colour is more likely to draw the attention of users.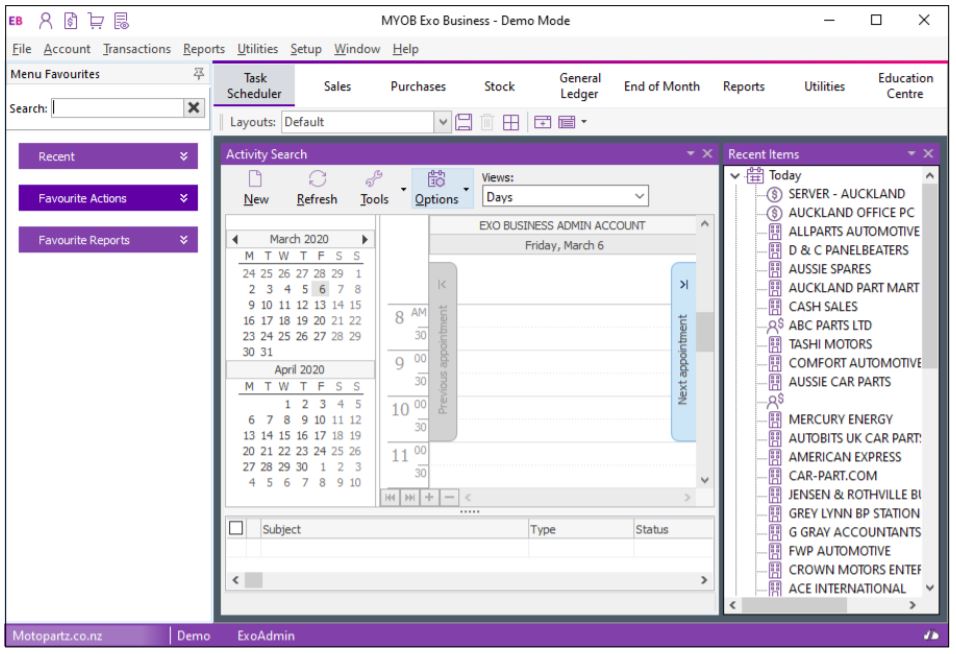 Dropdown Menus
MYOB have added dropdown menus – like Actions and Print – to the toolbars on several screens.
The dropdown menus consolidate related functions and toolbar buttons in one place.  This removes clutter from the toolbar.
Shortcut Icons
MYOB have changed the optional shortcut icons on the title bars of the Exo Business applications.
If the shortcuts were defined, during the upgrade process the old Icon applied to them inherits a new equivalent icon from the library of Icons.
If you define a new shortcut you can select from the library of new icons.
Shading of Table Rows
MYOB have standardised on alternate row shading for data displayed in grids.
The new shading scheme, along with the new font used throughout MYOB Exo Business, makes the information in the rows in a table easier to read.
Overdue Account Indicator
The red stripe at the top of screens that indicates an overdue account has been removed.
MYOB have replaced it with the status of the account in red text.
There are several other useful upgrades and features in outlined in the MYOB Exo 2020.1 Release Notes that are sure to help you and your business.
Download your copy of the MYOB Exo 2020.1 Release Notes , and discuss your upgrade or installation options with us at Acacia Consulting Services today.
Contact Us or phone us on +61 3 8560 5220 – As your MYOB Accredited Partner, we are here to help you to take your business to the next level.