The MYOB Exo 2020.3 release notes have now been made available to us at Acacia Consulting Services. For most of our clients, MYOB Exo is a crucial business software and having the most up to date version of MYOB Exo is a necessity.
What's New In This MYOB Exo Business 2020.3 Release?
New cash flow reporting features that provide a different perspective of the business, analysing activity from a cash movement perspective.
 This release introduces a new General Ledger reporting mechanism that supplements the Balance Sheet and Profit & Loss to provide a cash perspective on your business. Historical cash flow information provided in these reports can be used as indicators of the amount, timing and certainty of cash flowing in and out of the business, providing a sound empirical basis for future projections and associated budgeting. To find out more:
Updates to the user interface of the remaining Exo Business modules that were not updated in the 2020.1 or 2020.2 releases.
 In this release, MYOB have updated the user interface following Exo Business modules:
Exo Configurator
Exo Configuration Assistant
Exo Fixed Assets
Exo Accountant's Assistant
Exo Analytics
Exo Subscriptions
Exo Intercompany
Exo Distribution Advantage
The font used in Exo Business is the same as the one used throughout Microsoft Windows and it supports Unicode characters and the font is easier to read. The icons on the toolbars and in menu lists are flatter and larger and also clear than previous icons.
Display Names for the labels on the Dates section of the Job Details window.
The labels for the five editable dates in the Dates section of the Job Details window are now Display Names and now can be customised. The following new names can be configured in Exo Business Config at System > Display Names:
JOB_QUOTE_DATE
JOB_START_DATE
JOB_DUE_DATE
JOB_COMPLETED_DATE
JOB_FOLLOWUP_DATE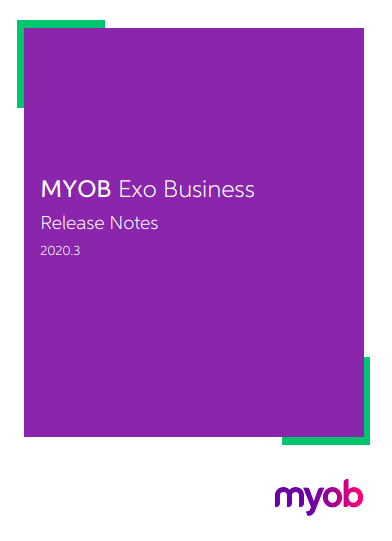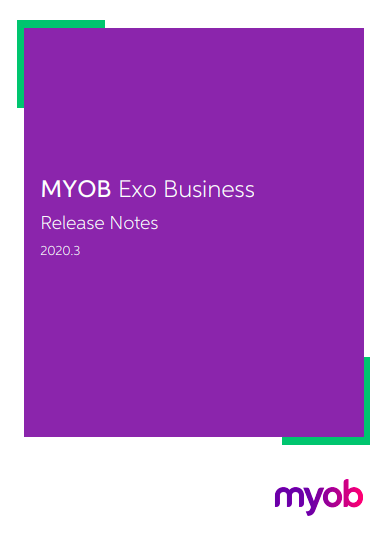 There are several other issues that have been resolved which are all fully outlined in the MYOB Exo Business 2020.3 Release Notes that are sure to help you and your business.
Download your copy of the MYOB Exo Business 2020.3 Release Notes and discuss your upgrade or installation options with us at Acacia Consulting Services today.
Contact Us or phone us on +61 3 8560 5220 – As your MYOB Accredited Partner, we are here to help you to take your business to the next level.